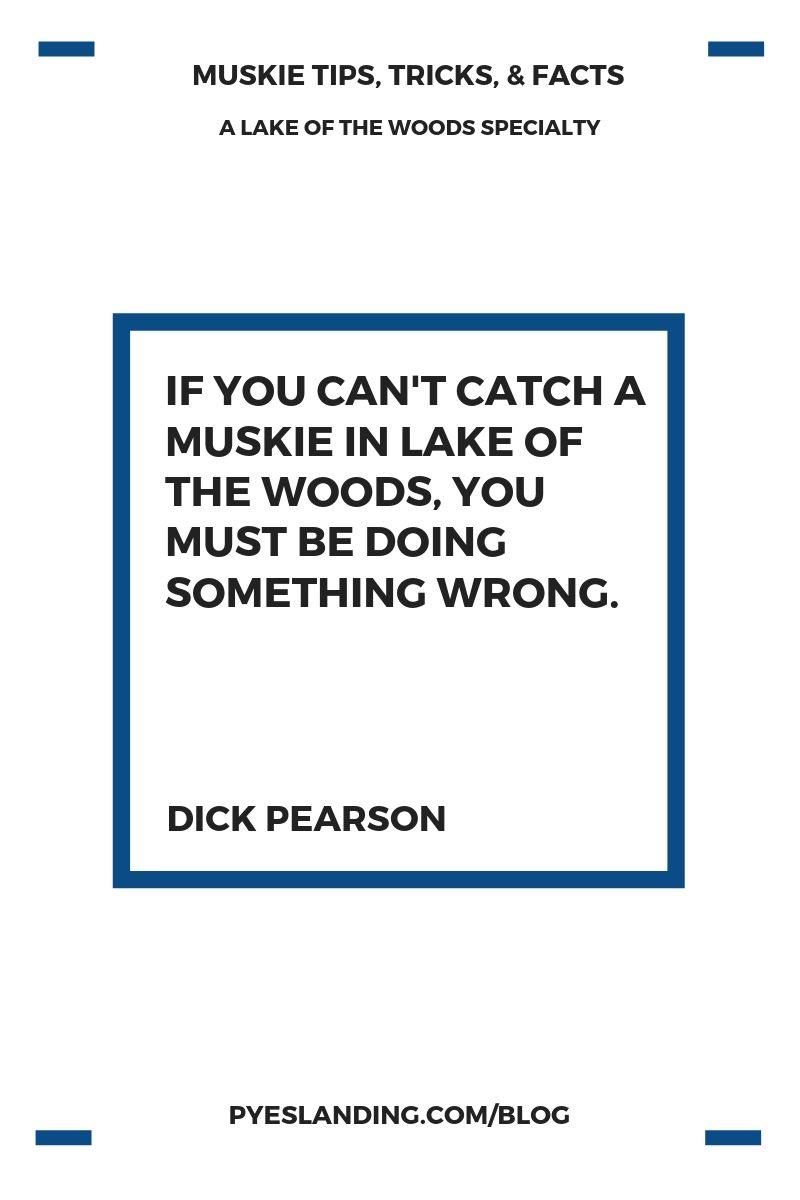 Muskie Season opens the third Saturday of June in Northwest Ontario! Are you ready?
We call Lake of the Woods home, and so does one of the most entertaining and prized fish to catch - the Muskie! Also known as musky, full name muskellunge, this giant pike is a weedy water beast, with reports of a 102 pounder being caught! Woah! The biggest on record weighed in at just over 69 lbs, which is a whole lot of fun in one toothy package!
With 1 million acres of water, 14,000 islands, and 64,000 miles of shoreline, it's no wonder the feisty goliaths prey on Lake of the Woods. We know the fishing is good, but don't just take our word for it! Northern Ontario Travel Magazine lists Lake of the Woods as the top destination for muskie fishing in all of Ontario! Book your stay at Pye's Landing on Lake of the Woods and learn what all the muskie madness is about! In the words of muskie angler, Dick Pearson, "If you can't catch a muskie in Lake of the Woods, you must be doing something wrong."
Not sure where to start, or looking to up your game? We've researched all there is to know (okay, some really good basics) about muskies to get you on your way to one of your biggest and most entertaining catches on Lake of the Woods!
How to Find the Muskie of Your Dreams
Muskie anglers have endless advice to provide, and sometimes you'll find one says to zig and the other says zag - so what should you do? Consider all options and try them out! After all, a day on the lake is a day on the lake! By following the tips below, you'll be sure to have a catch, or at least an "I almost had it!" moment!
Finding sheltered, shallow and weedy bays is a common muskie tactic, and there's no shortage of these spots surrounding the unending shorelines of LOTW.
The Basics
Closely related to northern pike

Biggest member of the pike family

Native to North America

Second largest fish in Ontario

Peak angling periods: June and fall

Morning & evening are best times to bait - but they'll bit all day

Quite a fighter

Size limits are in effect

Frequent catches of between 30-50 pounds

30 pounders are around 4 feet in length and many can be found in the renowned LOTW
Rod and lure selection is important - here are the essentials:
A short, stiff rod

A strong line

A wire leader (you know, because of the teeth)

Large plugs

Spoons

Spoons/spinners with feather or bucktail baits for surface luring

In summation: heavy tackle!
Where to find them:
Clear & weedy water

Shallow spots & bays

Open water - more details below
Open Water Tips
InFisherman mag offers great open water fishing tips:
find bait schools using sonar

muskies are less predatory in open water

they're looking for an easy catch

Pete Maina uses giant spoons in open water, giving the illusion of a wounded flat-sider

he's found muskie won't follow these lures - they just want to eat it, which is good news for you!

June through summer, concentrate drifts in the top 20 feet of water

Pause and flutter the spoon, but also play with jerkier movements
Sunset Country shared that studies have shown when water temperatures rise, muskies will go deeper to 20-40 feet - so if you're not having any luck, let a heavy jig drift down and you might just catch a muskie!
In Summary
Muskie like shallow water…. or do they? They like spoons… no spinners! Basically, fishing for these beasts is a treat, and while following the above tips may land you a great catch, feel free to experiment! You just might find the next best muskie fishing tip!
If you do, we want to hear it!
What's your favourite muskie tip? Have you caught a big one? Send us your catch or comment below!
Happy Fishing!
Pye's Team